home | about | blog | comments | Border Reivers |Brothers Of The Sand |Kingdom Series | Oathsworn Series


Robert Low news 2010

30 December 2010 - welcome to the all-new website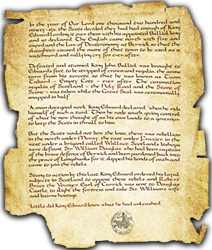 With the Oathsworn Series having reached its apparent conclusion, and the Kingdom Series beginning its run this year with the publication of The Lion Wakes, we bid a fond farewell to the old website and present this new, cleaner site which is easier to read on mobile and tablet devices. Hope you enjoy it!
The old newsgroup is now defunct too, and instead you can connect with me via Facebook and Twitter, where I'll keep you up to date with my writings and travels.
We're hoping to present even more features to keep you interested beyond the books. Please do keep in touch and let me know what you think. I'll continue to run my question-and-answer series on the comments page.
For your information, the old website remains in archive form here.
I wish you all the best for 2011... the year of the waking lion.
---
It has been both flattering and honouring to discover how so many people have warmed to Orm of the Oathsworn over the past four years. Now I would like to introduce a new character I hope you will respond to equally positively: Hal of Herdmanston. In the coming years he will bear witness to the battles in Scotland's Wars of Independence, encountering well-kent names like Robert Bruce, William Wallace and Edward Longshanks. I hope the Oathsworn Series has gone some way to repairing the tarnished two-dimensional image of the Vikings; and I hope the Kingdom Series will do the same for the people who fought and died for Scotland (and for their own reasons) 30 years after raiding Vikings left this island for the last time. Find out more in my blog.

28 November 2010 - The Historical Writers' Association
A few weeks ago a group of us scribes got together and formed the Historical Writers' Association – the HWA. The idea grew from the belief that historical writers need to have the same kind of professional body run by professional writers for professional writers to sustain, promote and support our work in the way that the Crime Writers' Association supports writers of crime fiction and non-fiction.
Everyone who is anyone will know how I have banged on long and hard about HF being a genre without a shelf or a prize.
Our initial plans involve a festival of historical writing to be held in conjunction with Historic England's Festival of History at Kelmarsh; probably in 2012, although we may have a dry run in 2011. We will move towards finding sponsorship for historical prizes and organise the social events similar to the CWA, plus alternatives as our members see fit: in the era of electronic networking, a great deal is being achieved already online.
Our aims of association:

The Historical Writers' Association is an association of professional writers of history, both fiction and non-fiction who have work published by recognised publishers, plus their agents and publishers. Membership shall be limited to those authors who have work published in the last 5 years, although others may be admitted at the discretion of the committee.
The HWA exists to promote, sustain and raise the profile of historical writing in all its forms.
For the avoidance of doubt, 'historical' shall be defined as being beyond 35 years from the point of application.
Thus we are open to writers of fiction and non-fiction alike – anyone who makes a living out of publishing books in which the core matter is historical – plus their agents and publishers. We have a wheen of the great and good already, standing shoulder-to-shoulder . If you think you'd like to join us, or know someone who does, please email me or Manda Scott, the woman almost single-handedly responsible for starting it (pause for suitable bows and cries of 'We are not worthy').

Here's a first look at what HarperCollins are planning for the cover of the first in my Kingdom series, The Lion Wakes. It's by no means a finished work but it sets the scene nicely and will almost certainly look something quite like this. Let me know what you think.
I bid a fond farewell to The Oathsworn at the 30th anniversary Largs Viking Festival, which was the perfect place to do so.
For me it's heads down into the world of Wallace and Bruce and the Scots wars of independence. Three books are planned, in which I'll tell an old story in a new way.
But I'm sure the Oathsworn will return to send me adventuring again – and, I hope, you too.

21 August 2010 - Memories of Gimli
Back from Gimli, Manitoba – spare a thought for that town of Icelandic ex-pats. They thought it was a good idea to name this New World enclave after the Old Norse for heaven – but who knew Tolkien would come along and force them to live up the rear-end of a grumpy dwarf?

Now that I am home in Scotland, I plunge straight into edits for The Lion Wakes, first of the new Kingdom trilogy due in March next year. This weekend I'm at the Lanark Medieval Festival then it's the Largs festival; and then, finally, off to Manchester on October 16-17 to take part in the Historical Novel Society Conference together with a load of other authors. Well worth the money – I hope to see loads of historical fiction fans turn up to that.

28 June 2010 - Lowlliver's travels
I'm spending a lot of time on the road just now – just back from Scandinavia and just off to Canada. Other parts of the world are miles ahead of us in safeguarding their archaeological heritage.

6 April 2010 - Out and about
Latest information on my upcoming event appearances...
June 5: Off to Norway for the annual Viking festival at Karmoy in the Haugesund. You may well all remember my last visit some three years ago and it seems they have forgotten, thank God, since I have been invited back. Read more about it and don't worry – hit the translate button to get it in English. Check out the photo gallery, too and see what fun we have... if the weather stays fine, that is!
July 30: The August Bank Holiday weekend in Canada sees me WAAYYY up in Manitoba at the town of Gimli which is holding its 121st Icelandic Heritage Festival. I will be living, dressing and fighting all weekend as a Norse warrior, in between doing talks, lectures and signing books – so if you got any that you want my scrawl in, now is your chance. You can also but them there, so don't worry. Find out more on how Icelanders ended up in Manitoba, the festival in general and how a town of approx 3000 people swells tenfold over a weekend, go here:
October 17: Off to Manchester to take part in a conference organised by the Historical Novel Society. Strange day to hold it, a Sunday, but I am told this is to fit in with events surrounding the coincidental Manchester Literature Festival and a Time-To-Read promo by Manchester Libraries, so I will be a busy old lad. Not sure what I will be doing, but am comforted with the thought that at least one old friend will be there, too – Doug Jackson, author of the Claudius and Caligula novels.
2 April 2010 - Many thanks
I'm glad you all seem to be enjoying The Prow Beast so much, and I'm grateful for the comments you've posted on online stores like Amazon. Please keep them coming – they're lifeblood in modern bookselling! It's also nice to find so many queries about whether the Oathsworn have a future.

3 March 2010 - The Prow Beast is published
As my good friend Angus Donald (author of Outlaw) says, there should be a name for that moment when you finish reading the last book of in a series you have loved. Post-Textual Tristesse, he calls it brilliantly – but I have to extend that to the moments after putting the last full stop on writing The Prow Beast. It's not the end of the Viking sagas in me, but it may well be the end of the whale road for the Oathsworn. Waving goodbye to old friends you have traveled so far with with is bitter-sweet.

I hope you all enjoyed the journey as much as I did – and that this final leg of it keeps you glued until the turn of the last page.
Then you can look forward, as I am, to seeing Robert the Bruce, William Wallace and the tortured Kingdom of Scotland come into print.
2 March 2010 - The Prow Beast on TV
The Prow Beast is published tomorrow – and starting tomorrow you'll be able to see the title on TV. Publishers HarperCollins have tied up with the History Channel to have the Prow Beast named as sponsor during a series of shows in the coming month. You'll see the ad during the following programmes (all times GMT):
03/03 Rome: Rise & Fall - 6pm
04/03 Rome: Rise & Fall - 6pm
06/03 Clash of the Gods - 10am
12/03 Clash of the Gods - 9pm
17/03 Richard the Lionheart - 9pm
17/03 Richard the Lionheart - 12midnight
19/03 Clash of the Gods - 9pm
19/03 Clash of the Gods - 12midnight
20/03 Clash of the Gods - 10am
24/03 Roman Invasion - 7am
24/03 Roman Invasion - 3pm
25/03 Roman Invasion - 7am
23/03 Roman Invasion - 3pm
26/03 Roman Invasion - 7am
26/03 Roman Invasion - 3pm
26/03 Clash of the Gods - 12midnight