home | about | blog | comments | Border Reivers |Brothers Of The Sand |Kingdom Series | Oathsworn Series


Robert Low 1949 ~ 2021

Eulogy by author, journalist and colleague Martin Kielty with contributions from Douglas Jackson Katrina Tasker Giles Kristian Ben Kane Steve Babb James Patrick Michael Bhaskar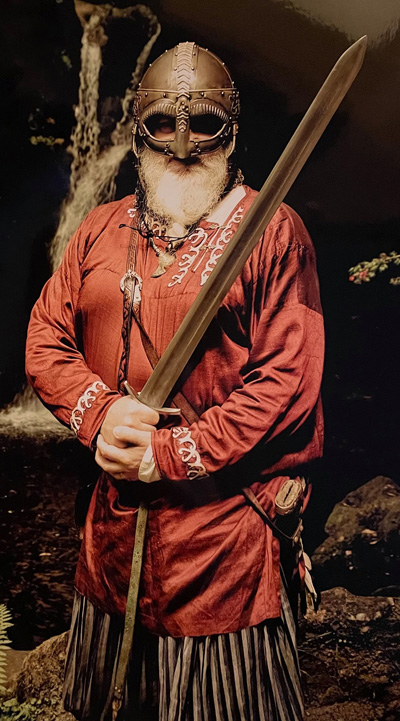 "Wibble – I am a penguin" is one of the few lines I co-wrote with Robert Low, who died on May 30 after fighting a battle with a brain tumour that was as unrelenting and driven as any of the main characters of his novels. An esteemed author and noted eccentric, he appears to have been known as "Bob" during his career as a journalist, then "Rob" when he began to deliver an impressive 14 books over the same number of years.
At the age of 20 I entered the world of national newspapers, naive, inexperienced and terrified, where Bob was my first boss. I quickly came to realise he was a marmite kind of person: he was loved or hated. I immediately took to him, mainly because he looked more like one of me than anyone else in the newspaper office.
DOUGLAS JACKSON, novelist: "The first time I met Bob was at the Daily Record in the late 80s, and I wondered who the exotic creature in the pony tail and double denim was. But I only really got to know him as a writer. He'd published The Whale Road a year before my own first book was due to come out and we met by chance outside the Kelvin Museum, where he'd swapped the denim for a suit of chain mail. Being Bob, he invited me for lunch, and gave me an eye-watering glimpse into the world of publishing which helped me navigate some of the pitfalls of the next few years. After that we'd meet up at conferences, festivals and events, where he was one of THE characters with his long beard, massive presence and razor wit, as well as a proclivity to pull out an axe or a sword when least expected.
"He was a great raconteur, on and off stage, and some of his stories will pass into legend, but he was also a great writer. In my opinion his Kingdom series is one of the finest works of Scottish literature, and a genuine masterpiece that will only truly be appreciated in the decades to come. He was a giant of historical fiction in every way, and I know from our conversations he felt genuinely blessed to be a writer."

The department we both worked for was a bit of a political football in the world of 90s change. I'm not sure I could have survived the massive increase in stress and responsibility (two million people a day read what we wrote, so no pressure there) without an equal corresponding increase in irreverence and character.

KATRINA TASKER, media marketing executive: "When I think of Bob, I smile… He was a darling and a total pain in equal measures and we fell out daily, but always hugged it out afterwards. He named me Taskforce for my diligence in getting all promotional copy correct for client sign off, and I'm sure he relished in the fact that, because he wouldn't play ball, we'd have another run-in.


"His finest hour was our Mexican Stand Off over a Free Mince pie from Greggs and a client that insisted on sign off by 12 noon, not long after Bob started his shift. So annoyed was he to be greeted by this 'ridiculous' editing job, that he (deliberately, I'm sure) left it until five minutes before signoff to finish the page. In haste, it was faxed to a grumpy PR with no time to check. When she called back in horror about the 'Free MICE Pie for Every Reader' headline, it was a moment that has went down in newspaper folklore. That and the time he told a well-loved but equally eccentric news sub-editor that he needed his input like he needed an 'extra arse'.


"I always envisage Bob in waistcoat, jeans and his trademark pony tail – a lovely kind godfather to us all. I wasn't at all surprised to find out he was a 'Viking', and he was so brilliant when I took my young son Jake to meet up with him in Largs at an event. You were some man for one man, Bob."

He and I used the word "wibble" to replace every swear word, because at least it sounded funny. Bob was angry about something one day (he always started a new project with an angry "No!" which he made to sound nasal and whiny, almost as if there was a long "y" sound in it – "Nyyyo!" – and then he'd come back from there to focus on what had to be done). "I'm sanguine now," he said one day. "You're a penguin now?" I asked. "Wibble – I am a penguin," he replied, and it stuck.

As I struggled to assert myself in an environment of loud characters, he quietly supported me; with a similar beard, ponytail and even waistcoat (my personal addition as stupidly loud shirts, to which he often shook his head at and told me: "You've taken that too far" long before it was a Scottish TV catchphrase) I became known as "Son of Bob" in the office.

It seems it was his natural place to be a bit of a mentor.

GILES KRISTIAN, novelist: "Rob was a skald of the highest order, a wonderful character and a generous man. When I first started out in the business of writing, he gave me advice and took me under his wing. Called me Padawan, which I took as an enormous compliment, because his craft as a writer staggered me. His prose was inventive, lyrical, evocative and, at times, edged with an insight into the struggle and fragility of human existence that could bring tears to the eyes. In an early email to Rob, thanking him for his wonderful quote on my debut novel, Raven: Blood Eye, I told him he was the first writer I had ever known. He replied: 'I may be the first writer you have ever known, but I won't be the last, I suspect (in return, you are the first boy-band singer I have ever known!)' When my daughter Freyja was born, Rob called her the 'little raven on the flight's edge,' and gave her a beautiful necklace of the goddess offering the Mead of Poetry to the worthy. She's 11 now and still wears it from time to time.


"I remember one day I was at my desk when Rob turned up at my door out of the blue (he lived over 300 miles away) and gave me a bottle of whisky and a sword. As you do! Another time, I was in Norway rowing the huge replica Viking ship, Draken Harald Hårfagre, when I just so happened to bump into Rob by a campfire. He was regaling his audience like the consummate storyteller he was, his trusty sword 'Cabbage Bane' close at hand.


"I never went on a creative writing course, but I learned so much from Rob about the craft. And about publishing. I owe him a huge debt. If you love historical fiction, please read The Whale Road and you'll see what I mean. No one has brought the Viking world to life in all its grim, bloody and yet alluring wonder better than Rob. I honestly don't think anyone understands the times and people as well as Rob did.


"Thank you, Rob, for letting me be your Padawan. I'll miss you but I'll see you in Valhalla."


IMOGEN ROBERTSON, novelist: "Robert Low was a fantastic storyteller, on the page and in person and we will miss him at the Historical Writers' Association. He was a founder member of the organisation and the first editor of our online magazine, now the mighty Historia, for which we are and always shall be very grateful. He was also a close friend of many of our members and it's hard to believe he's gone.


"His books were grounded in a deep understanding of history and the people living it, and a full imaginative immersion in whatever period he was writing about. His writing is muscular and exciting, but the work each line does, summoning up a character, a place or a moment, has a compelling lyricism and cadence to it. That's talent and hard work and every writer should study him. I'm not surprised his books gained huge numbers of fans in this country and abroad – I once met a man in Serbia with Rob's name tattooed on his leg, such was that reader's love of the Oathsworn series. I texted Rob to tell him that, and he said he was going to check he'd got paid for those translation rights.


"I will always remember him reducing a table full of writers to tears of laughter with a story about encountering a group of tourists while in full re-enactor gear on the way home from an event. If you haven't seen Robert's impersonation of a confused deerhound, you've missed out. Equally, I've listened to his war stories from his time as a correspondent with a mix of awe and horror. He saw things I very much hope I'll never see and understood the darker sides of human nature having witnessed it himself.


"He was gruff and funny talking about writing and writers, and I know his no nonsense commentary on the vagaries of the publishing industry was hugely useful to me and many others as we began to navigate the world of books ourselves. He was also very generous with his time and advice which was always robust and practical. He could make you feel loved and listened to, but never patronised. It always helped. One time I saw him at reception in a hotel where we were staying for an event, and when I said hello he gave me a hug which lifted me completely off my feet. That's how I'll remember him, a fierce warm embrace, a loud laugh and the sort of story I wanted to retell myself for weeks and years later."


BEN KANE, novelist: "A founder member of the Historical Writers' Association, a Viking reenactor and a finer writer than I will ever be, he was a born storyteller who loved an audience. His stories were fantastic, and all told in his gorgeous Scottish accent: 'I was standing in the taxi queue late one night in Glasgow, and a guy came up and said, "G'is a pound or I'll stab you."' Rob duly pulled out a £20 note and handed it over, and felt relieved to be unharmed. Five minutes later, he was still waiting for a taxi and the bloke who'd mugged him came back and handed him £19.


"Another one was about the day he was out with his Viking reenacting comrades in the woods somewhere outside Glasgow, all in brynjas (full mail shirts) and helmets, swords, axes, shields etc. They were tramping along with their two Scottish deerhounds, supposedly trained to the horn. Entering a massive clearing, they saw a deer right out in the open. The two dogs looked at one another, said Rob (imagine a Scottish accent), and said 'Are you seeing what I'm seeing?' Off they went at lightning speed, chasing the poor deer to and fro around the clearing, while the horn carrier blew and blew to call them back – to no avail. In the midst of this, on the track on the opposite side of the clearing, came walking a group of Japanese tourists, cameras as always at the ready. Stunned, amazed, they videoed the six or so Vikings roaring and shouting at the dogs, the horn blower doing his best, and the two deerhounds in full flight after the deer. Rob used to finish the story along the lines of, 'Somewhere in Tokyo, there's a chap who tells his friends, "Watch this video! In Scotland, you go into the woods and there are Vikings hunting deer!'"


"Rest in peace, big man. You will long be remembered."

When Bob secured his first publishing deal I very smugly pointed out I was three books into my own career as an author. "Aye, but people are going to read mine!" he told me, then demanded I set up his website for him. He never ever said anything like "thanks" – the usual line was: "Aw, you're not going to do it like that, are you?" But in the early days, "I'll buy you lunch," and in latter years, "You're doing that no' too bad," was all the thanks I needed.

When I read his first novel, The Whale Road, the impressive opening to the movie-worthy Oathsworn Series, I was genuinely astonished. I could not believe MY Bob had written it – it wasn't what I expected from someone that it's fair to say seemed like a bit of a social dropout. It suddenly seemed that, rather than rejecting a society he didn't understand, he'd been avoiding a society he knew too well – he'd had an overview – and all those years he'd seemed distant and uninterested, he'd been listening to people, to what they said and what they hoped for. And while the worlds he created were very dark and dangerous, there was always the chance for victory. A message worth broadcasting.
I think the biggest lesson I learned from Bob was that it's essential not to lose yourself in other people's worlds, especially if you aim to create your own. I know too many people in media who woke up after three decades of constant strain to realise their friends and family had long gone, and there was nothing for them to spend their time on. I very early on made sure not to do that – and it made the going difficult from time to time. I came to understand that it was a form of challenge that was better for people like Bob and me instead of the challenge of just getting through a shift and avoiding eye contact with tomorrow.

STEVE BABB, novelist and co-founder of Glass Hammer: "Even though I am a voracious reader, I had made it into my late forties without ever penning a fan letter or email to an author. In 2009 I finally did. Having been swept away by Orm's saga – or the beginning of it – in The Whale Road, I took a chance and let Rob know just how much I loved it and how eagerly I anticipated the next in the series. I actually thanked him for writing the series, then segued into some bragging about my band Glass Hammer. But the bragging had a point. This is what I told Rob and asked of him: 'Usually whatever I'm reading is the inspiration for the next album, and that next album is nearly complete, musically. Next week I start on lyrics. If you've got any poetry lying about that needs a home, please send it. It may end up on an album.' I told him I'd understand if he wasn't interested, that he was every bit as good as Bernard Cornwell, and hit 'send' on the email. I assumed that would be the end of it.


"Just a few hours later I got an unexpected response. Not only did he reply, he confessed to being a fan of my band. He later told me that he had listened to Glass Hammer while he wrote. This was monumental to me. A friendship as unexpected as his reply immediately developed. I'm guessing he was that way with a lot of folks.
"He and I began trading autographed copies of our work to one another. His poem, Crowbone, became the lyrics for one of our songs. I don't think I could ever convey to him just how much that meant and how much his friendship meant without sounding foolish. I certainly wish I'd said more, now that I can't.


Crowbone (Lyrics by Robert Low)

Flung out from the fjord cliff
Fledglings on the flight's edge
Spun, whirled
Heaved on the slow-black, crow-black
Night of black-glass sea
Feathers on the breath of gods
We are our own wyrd
Our own brothers
Who face the spit of the seas
And dare to lift our wings as if we were not
Feathers on the breath of gods

Like all the best people I've ever encountered, Bob wasn't terribly good at real life. It wasn't enough for him: it bored him and it lacked enough chance of pace and cadence to make him feel involved. I'm certain that's what drove him to create his own lives. I think, like me, he liked adventures to end, simply because it meant another one would be coming along shortly. Living life like that offers surprises when you look back at your own achievements (not something to be done often, of course). While I know he wanted to crowbar more adventures into his life, I hope he accepted credit for having already crammed so many in – not least being a husband, father and grandfather.

JAMES GILL, United Agents: Bob was one of my first-ever novelist clients, and the partial typescript he sent me (from what was to become The Whale Roed) was the first ever to make me miss my stop on the train home. A journalist by trade, Bob came to novel-writing comparatively late in life after 40 years in newspapers, dodging trouble in hotspots like Vietnam, Kosovo and Glasgow. The Whale Road in 2007 was the first of 14 novels which has sadly ended with the last of his Border Reivers series, Shake Loose The Border, in January this year.


"As well as being prolific, Bob was one of the finest technical storytellers I've ever worked with – a master craftsman who knew precisely what he wanted every chapter and sentence and colon or comma to do. Critics often referred to the robustness or ruggedness of his novels (the Sunday Times spoke of his "muscular, fast-moving prose"), but I think the beauty and lyricism of his prose was often under-sung. Bob's novels are written with a poet's heart and skald's eyes and ears, not least in his Oathsworn novels set at the end of the Viking age, which soar and sing of war and death and silver and fame – but also of love and fear and friendship.


"He was a fabulous writer, a valued client and a good pal. Sjáumst, Bob!"

The best thing Bob did for me was just to be himself – almost a corny line on a planet of memes, and almost equally difficult to genuinely achieve in a world of angry demands. I'm proud that he knew I'd got there too: after the experience of writing my own historical fiction novel, Simon The Fox, in 2012 (I took great pleasure in killing him off during the story, and he returned the favour by killing me in one of his stories) a snowball effect of life changes brought me to the secluded happiness I enjoy on my narrowboat, preparing my first collection of poems. I'm almost certain I'd never even have been able to visualise such an ambition without his influence. I very recently wrote what I'm certain is the best thing I've done to date, and I'm so sad that I'm not able to show it to him in real time. I'm now aware that other creatives feel the same, and that's a very comforting feeling on what's usually a lonely path.

MICHAEL BHASKAR, co-founder, Canelo Publishing: "Robert Low was unquestionably one of the finest historical novelists of his generation. But he was also completely unique, a writer with a voice and vision that stood out in a crowded field. I always think of him as the dark magus of historical fiction, a seer-like figure, almost, capable of rendering the world in a way that was completely original. His books, always deeply researched and addictively paced, were written with a sensibility and a tone that was utterly Robert's: dark, twisted, poetic, original, savage, imaginative. No one could conhure an image like Robert; no one could be quite so brutal, so merciless towards his readers. He took no prisoners on the page, and refused to compromise his content or his style. But of course Robert was always ready with a wry smile, and his books also reflect that, with their black wit.


"In my years as a publisher, his books stand out and I will never forget them or him. He was a huge part of the list here, a marker of everything we wanted to achieve in our publishing: a genuine artist who could connect widely. We are absolutely gutted not to continue the incredible work he was pursuing, not just on the level of a company, but as readers and fans.


"He was about to embark on a new project about chariot racing in ancient Rome and I just couldn't wait, and it is with such sadness that I think his large and constantly growing audience won't get to immerse themselves in that world. He is much missed here, but we are at least glad that his books will still have a life and will do everything we can to ensure these extraordinary works continue to find readers. "

And so, Bob is freed of all his worldly oaths and he's sailed on to another world of his own creation (I think). It's all too quiet in this world suddenly, kind of like how it was when Bob was just listening and not speaking via his books – which, of course, we have for ever. I've believed for a very long time now that our role as humans is to contribute to humanity, with the hope of leaving the world a little better than we found it. I know he did, and, thanks to his support, I believe I will too.

To some he was "Bob," to others, "Rob;" to me, he was "Faither," a kind of soul-parent. I look forward to meeting him again someday, and him looking at my world and saying: "Aw, you didn't do it like that, did you?"